How can I connect two windows?
You can connect all windows in your platform by putting the same color in the "Symbol Link Group".
The linking icon is in the window caption and looks like a pin. A light-gray pin (as in the picture above) means the window is not linked. Click on the pin or the little arrow next to the pin in order to change how the window is linked.
When you click on the arrow next to the pin, a menu will drop down, allowing you to pick the link color group. All linked windows of the same color will change together. If you change the linked-to symbol on one color group, the other color groups are not affected.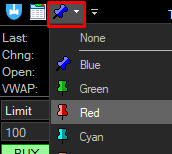 The linking on the portfolio window works a little differently from the other windows. If the portfolio window is symbol-linked, clicking on the symbol in the portfolio will change the linked-to symbol on all the other link-group windows (such as Chart, Level II, and Raw Data windows). On the other hand, if you, for example, change a symbol on a Chart that is in the same symbol-link group as a portfolio, the portfolio's highlighted row will change to the new symbol's row.